Our Building Trades Council is pleased to provide this list of contractors who are signatory to agreements with our local unions.
This site is set up to make finding a signatory union contractor or affiliated local union easy for our users. Please try the search feature or use the categories in the navigation bar. We hope you find this site useful.
Thank you to our business and professional friends for making this site possible.
The Colorado Building and Construction Trades Council is comprised of 24 Craft Local Unions who represent 13 national and international Unions. These Local Unions make up the nucleus of thousands of skilled working men and women in this State.
Our Local Unions provide craft personnel at a competitive rate to quality contractors who together can build any construction project. Our craft persons have both classroom and on-the-job training to support their production. We know you as an owner or builder can profit by using them.
The Builders Guide is the only official publication of the Colorado Building and Construction Trades Council, published for owners, architects, engineers, contractors, and sub-contractors.
For any information concerning the Builders Guide, contact us at (719) 648-5073.
The contractors listed on this website are compiled from lists received from our affiliated Unions. Contractors are listed under the heading of the affiliated Building Trades Local Unions with whom they have a negotiated agreement.
We wish to thank you for your consideration of our qualified contractors and skilled craftsmen.
If we can be of any help, please feel free to call on us.
JASON L. WARDRIP
Business Manager/Financial Secretary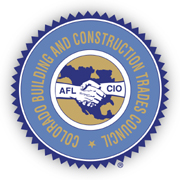 COLORADO BUILDING AND CONSTRUCTION TRADES COUNCIL
OFFICERS / TRUSTEES
Jerry Dorn — President
Tim Ruth — Vice President
Mike Gleiforst — Recording Secretary
Jason L. Wardrip — Business Manager/Financial Secretary
Brian Bradley — Trustee
Doug Gleaton — Trustee
Anthony Trujillo — Trustee
Sean Wyatt — Trustee
Jerry Gondek — Sergeant-At-Arms
COLORADO BUILDING AND CONSTRUCTION TRADES COUNCIL
Business Manager / Financial Secretary – Jason L. Wardrip
Email: jwardrip@cbctc.com
Office Administrator – Gayle Noon
Email: gnoon@cbctc.com
7510 W. Mississippi, Suite 240
Lakewood, CO 80226
Phone: 303-936-3301
FAX: 303-936-3314
Web Site: www.cbctc.net